Workshops
Many people who are interested in learning about scrapbooking, cards, and papercrafts, already know the basics, while some people don't know anything, & others know lots, but still like new ideas. I can offer you a varied choice of workshops from beginners to advanced, so even if you wish to hold regular workshops, you will never get bored.
Check out my other website
www.odette.stampinup.net
you will find a calendar of events on the front right hand corner for workshops at my house.
However book a workshop at your house with your friends & you will no doubt end up with some great free gifts as well!
Stampin'Up! workshop options that you can hold in your own house are
Free Make & take lessons
Many people are not sure if they like the idea of crafts, so a great option is the free make & take class… I will make 2 items for you, showing you a LARGE variety of techniques, & then you will each make a small & quick item yourself! A great introduction to papercrafts & Stampin'Up!
Cards
Most of my Card workshops are $15 per person, & you will make either 4 or 5 cards, each using different techniques. However some people (particularly on weeknights) choose 3 cards for $10
Start making your Christmas Cards NOW!!!
Ask about the stack-a-cards!
8 cards for $20 (2 each of 4 different cards)
Or
12 Cards for $25 (3 each of 4 different cards)
Scrapbooking
At $15pp a class, you can get a step by step lesson making a double page layout, or a single page with 2 cards, or a mini 6x6inch book, still learning some great techniques.
Highschool Album
In this $45 workshop you will make 12 pages in a day to put in an album covering all the important parts of your 5 years in highschool!
Gifts & off the page items
Make a variety of items from an accordion box or book to many other options.
Paper Bag Album
Make an 8 page paper bag album complete with pockets for just $15 per person.
Over the next few months I will be adding to my website some FANTASTIC new workshops on a variety of techniques, including STAMPING!
Plus….. I am working on a monthly kit that will come with ALL items needed, including instructions….
Each workshop includes all your product & I can cater for as many participants as you have space!
Book your Stampin'Up! workshop in NOW!
Waterfall card.
$15pp
You can put this on a card, or on the side of your scrapbook page!
(Sorry I need to re photograph this one..)
Jumbo Bifold Flag Album.
$30pp
You can put this on a card, or on the side of your scrapbook page!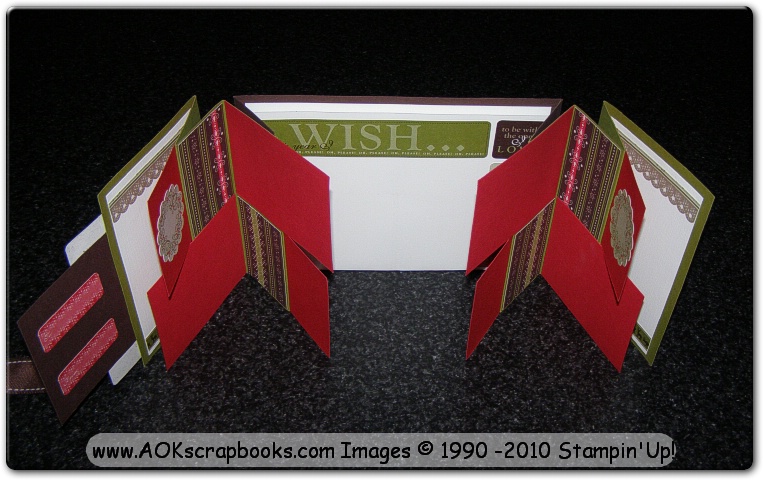 Paper bag Album
$15pp
This is an example, but they can be done in various themes!

Flag album
$15pp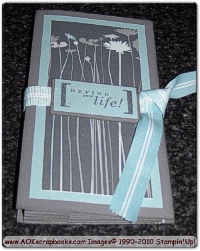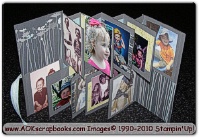 Mini book
$15pp
There are a variety of options for the mini book, here are just a couple!
this one has a hidden spine

this is an old book I made tht has a spine but is joined with ribbon

Accordion book

Tag album

Pyramid cards

The Accordion book!
Still made from My normal workshop kits, but you also have enough left over from your pack to make another one when you go home.

The Accordion box!
This next workshop is for an accordion box. Each participant will

receive

a Workshop kit (there will be a variety to chose from), which is all that is required to make this FANTASTIC gift!


Explosion Album
This is an explosion album. Although the workshop kits allow for this size, once you know how, you can make them any size you wish.

Star album
This is a fantastic album called the Star album. Very popular as a small brag album, or even Christmas Decoration! Again, once you know how, these can be made in MANY sizes!

Flourish or Memory boxes
Although this workshop is actually $20 (due to more cardstock being required) I have found a way to make it from my regular kits! The downfall is that it does take longer, as more measuring is required, so you may not finish decorating in your 2 hours.


There are many more workshops that can include a combination of smaller items. They can include a "tear bear" (see below), pockets, tags,

toothpick books (great for adding extra journaling or pictures), and a HUGE variety of cards.
Everything you need will be supplied
.

PLEASE call me on 62781808 if you would like to book in a workshop,
Scrapbooking, Card, Papercraft & stamping workshops are all $15 per person (unless specified), I supply all your tape, and cutters and I include a workshop kit per person of your choice.